Efficient Emission Control: Habonim Ball Valve with Fugitive Emission Bonnet
Fugitive emissions are gas or vapor emissions from pressurized equipment that result from faulty equipment, leakage or other unforeseen events.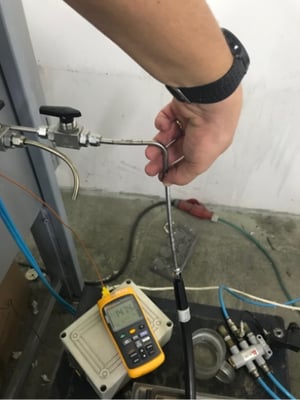 The majority of these emissions come from industrial settings such as factories, power plants, oil refineries and chemical plants.
Due to the large number of potential leak sources in these facilities and the difficulty in detecting and repairing them, these fugitive emissions can have significant consequences, including:
Economic costs related to lost commodities
Environmental damage such as air pollution and the greenhouse effect
Long-term health risks to workers and local communities in close civic proximity of industrial facilities as a result of exposure to hazardous materials and volatile organic compounds (VOCs) such as benzene
Higher risk of fire and explosion in explosive environments where large amounts of flammable materials are contained under pressure
Reducing Fugitive Emissions
Approximately 60% of fugitive emissions come from valves, and as much as 80% of the leakage per valve originates from its stem-seal interface. This means that despite bills such as the Clean Air Act Amendment (CAAA), which was passed by the U.S. Environmental Protection Agency (EPA) in 1990, and other global efforts that are being made to reduce industrial fugitive emission levels, this is still one of the most serious challenges that the process industry faces today.
Therefore, in addition to conducting regular testing and maintenance of industrial facilities to control fugitive emission levels, it's essential that valve manufacturers and suppliers take extra measures to ensure their valves have secured stem-seals to prevent them from leaking hazardous gas or vapor into the environment.